News List / The first meeting of Electricity Market & Regulatory SC of Cigre Iran
---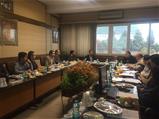 The first meeting of Electricity Market & Regulatory SC of Cigre Iran
Monday, February 19, 2018
The first meeting of Electricity Market & Regulatory SC of Cigre Iran, chaired by Dr. Gharagozloo was held in "Iran Grid Management Company" on 27th Jan. 2018. The honored guest of this meeting, Dr. Farokhzad portrayed the challenges and opportunities of this study committee and hoped the output of this committee can help to tackle the problem in Iran's Electricity Market and lead to foster the experts in this field.
After that, the member of study committee discussed on Strategic plan of SC and accepted the proposed working groups as well as the organizational chart of the SC. It was decided that at least one member of study committee manage and support the working group with joining in.
In this meeting, all agreed with the proposed convener for each working group.