News List / The first technical session of Cigre-Iran ICT study committee (D2) in 33rd International Power System Conference
---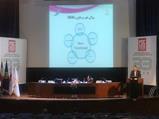 The first technical session of Cigre-Iran ICT study committee (D2) in 33rd International Power System Conference
Monday, November 5, 2018
The first technical session of cigreiran D2 study committee was held on October 23rd in 33rd Power System Conference (PSC). The title of this session was " ICT Architecture Of Iran AMI Project (FAHAM) and Using BigData On It " which Mehdi Mohammadi from Monenco Iran presented the matter.
The summary of this session is as below:
Iran AMI Project (FAHAM) include 5 layers such as Smart Meter, Raw Data Operator , CAS Center , Electrical Distributed Company and Applications. ICT Architecture of FAHAM contains of Smart Meters , MDM Software, AHEs, Applications , Network Communication , HSM , and SOC/NOC. This Architecture are divided to two separated network which in first network all Meters and DCs are connected to CAS center with special infrastructure and in second network all application and companies are connected to CAS center with separated infrastructure. MDM software have to validate and storage all data in project. So a huge data every day have been saved in system . these data can be used for better operation in smart gird. The most important system can use these data include Billing, Outage management system(OMS), Energy Management System (EMS), Power Quality Management System, Demand Response Management, Electrical Consumption Information System, Geographic Information System (GIS), and Preventive Maintenance.