News List / Holding "improving market competitiveness in electricity market of Iran" Seminar by SC C5
---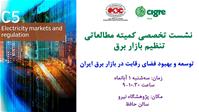 Holding "improving market competitiveness in electricity market of Iran" Seminar by SC C5
Tuesday, November 6, 2018
During 33rd international Power System Conference, Cigre Iran study committee C5 held the seminar titled "improving market competitiveness in electricity market of Iran".
In addition to introducing working groups of this committee, the specific and unique traits of electricity market of Iran were stated and then the challenges hindering the competiveness progress in this market were mentioned with declaring the keys for ameliorating.
At the end, the attendees were invited to encouragingly participate in the project of each working group.