International Events
---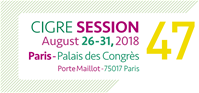 From 26 to 31 August 2018 6 days of Conference 5 days of Technical Exhibition
With more than 91 % of international attendees
Mainly TSOs, utilities and DSOs, international influential decision makers, technology experts
5 days of Conference & Technical Exhibition
3 floors of exhibition space
More than 242 exhibitors (from 28 countries)
Attendance:
3290 international Delegates
more than 8000 participants from 93 countries
36 Study Committee meetings
163 Working Group meetings
7 NC or Regions Meetings
381 companions
242 exhibitors
4900 visitors or exhibitors badges
3 floors of exhibitor space
Session area: 13680 sqm
Posters area: 1050 sqm
The place to be !
Big names of the Industry have chosen CIGRE Session to launch key products. Journalists from 15 different countries came to cover this unique event.
For more information, please contact us