News List / The third meeting of System and Economics Study Committee
---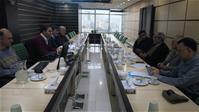 The third meeting of System and Economics Study Committee
Saturday, February 24, 2018
The third meeting of System and Economics Study Committee was held at Monaco Iran on 18th of February 2018, with the presence of the chairman, the secretary and main members of the committee.
In this meeting, the activities of the Working Group C1.39 were presented in two sections; internal activities and communication with the International Working Group. Also regarding the questionnaire form provided by the International Working Group was discussed.
Also after submitting the report of the formation of the National Working Group C1.35, it was agreed to settle the working group in Iran which the final decision will be made in the next meeting.
At the end of the meeting, the Cigre Knowledge Management System was introduced and the different sections of this system were described to the members.