News List / The third meeting of ICT Study Committee of Cigre-Iran
---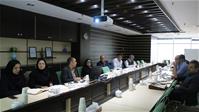 The third meeting of ICT Study Committee of Cigre-Iran
Monday, March 5, 2018
On Feb 24th, the third meeting of ICT Study Committee of Cigre-Iran was held at Monenco Iran Company.
During this meeting the following topics were discussed:
Presentation of "5G Enabler in Smart Grid" which was presented by the representative of the Communication and Information Technology Research Institute.
Also the Study Committee members discussed about how to use 5G on the smart grid and the requirements of this network to this mobile technology.
The first working group; "Utilization of Electricity Smart Meter`s Data and their Application Analysis" established.