News List / The first cigre-Iran technical session of study committee C1 in 33rd International Power System Conference
---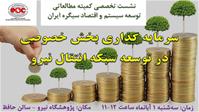 The first cigre-Iran technical session of study committee C1 in 33rd International Power System Conference
Wednesday, October 31, 2018
The first technical session of cigreiran C1 study committee was held on October 23rd in 33rd Power System Conference (PSC). The title of this session was "the contribution of private sector in transmission extension planning".
At first, a brief report about C1 study committee was presented by Mr. Berahmandpour- the chairman of SC. Then Mr. Zeinali- The secretary of the SC presented about participation of private sector in the transmission system extension planning in the world. Also Dr. Zangeneh presented the main part of the session and suggested two different flowcharts for the trend of private sector participation.
As this title is a new approach in Iran transmission system, it needs more studies and investigations specially for the two main challenges. The first challenge is the technical points which should be solved to facilitate this approach. Another challenge is the legal and lawful aspects.